The material for my digital creations is often photographs I've taken on my travels.
I love walking in nature and in Sinai the scenery can be quite exciting with lots of little details to be found.
One of my favourite walks is from Blue Hole to Ras Abu Galum. For me it's an easy, meditative walk, where I may see a few people but usually won't see anyone. I get the feeling of freedom and isolation; walking in silence, wind brushing my face, eroded stones under my feet; surrounded by desolate, barren land that's deaf to my cries and laughs.
The path follows the coast line, at some points very near the water where you can see the reef and the fish and straight wall disappearing into the deep blue. It is really quite amazing.
The photograph below is taken at such a point and it is the raw material for 'blue and violet ocean impression'. Using Photoshop, I made adjustments with channel mixer, applied filters, copied, flipped and changed opacity of layers and finally turned it into a pattern.
Visit BlueberryRoom Zazzle and Society6 stores to view products featuring Blue and violet ocean impression.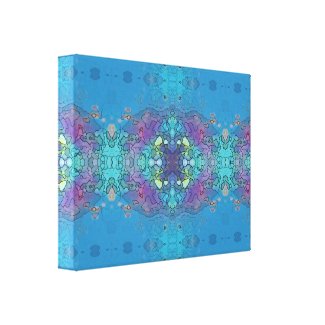 Blue and violet ocean impression gallery wrap canvas
by
BlueberryRoom
Browse
Ocean impression Canvas Prints
Blue and violet ocean impression